Leonidas Nikita Gerondoudis
He was born in Asmara, Eritrea of Abyssinia in 1903 and died in Athens in 1991.
His primary school education was in Asmara followed by 6 years as a boarder at the private «Ionian School» of Athens.
Graduating with honors in 1918, he traveled to Italy to attend the University of Naples, where he studied economics and business administration.
After graduating (1922), he returned to Asmara for a year, where he organized and managed the family's tobacco factory.
The following year he went to Genoa (Italy) and took over the management and the marketing of the tobacco factory's products.
In 1937 Dictator Mussolini revoked their monopoly license, because of their refusal to change their nationality, and they were deported to Greece (with his sister Elizabeth).
He was fluent in Greek and Italian and also spoke French and English.
From 1937 he lived on his beloved island of Lemnos starting his own family.
For many years he used to visit all the villages of Lemnos and gather information about the mannerisms and customs of each community. He recorded the stories told to him by the elders, the dialect they used, including the songs, the dances and jokes. He photographed interesting landscapes and people.
This research lasted 36 whole years. From 1935 to 1971 when his book "The Island of Lemnos" was published, History-Dialect-Free Lemnian Verse-Folklore-Grammar and Dictionary of the Lemnian Dialect, which has 582 pages.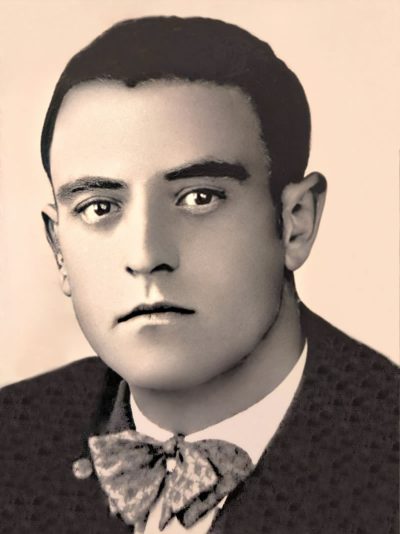 The enthusiastic reviews that have been written from time to time by philologists, historians, linguists and folklorists are noteworthy. His work has become a point of reference for all later writers, who dealt with the history and folklore of the island.
The book refers to the history of his homeland, from the 5th millennium BC until the year of publication of the treatise, i.e., 1971.
The chapter on the "Free Lemnian verse" makes an impression with the approximately 100 pages, where it refers to myths, songs, dances, customs and traditions of Lemnos, written in the Lemnian dialect.
He also prepared a detailed map of Lemnos, with far too many details. For this reason, the General Staff of the Army did not approve the printing of the map. He was forced to remove most of the details, thus allowing the map to be printed and sold in 1955.
The result of 36 years of research, with the difficulties of that period, is truly a tribute to the historic island and a testimony of the soul of a Greek born abroad, who loved and wanted to honor the island of his origin.